Why choose Creative Software Solutions when it comes to point of sale (POS) systems ?
Having an efficient point of sale (POS) system can go a long way in making sure that all your operations are running smoothly. And this is where Creative Software Solutions with years of experience in the field can help out. We are offering a one stop shop for all your software and hardware needs when it comes to point of sale and bespoke business software.
With our range of products we can cater for all types of industries being a restaurant , a retail out or a hotel. What ever industry it is we can handle it no matter what.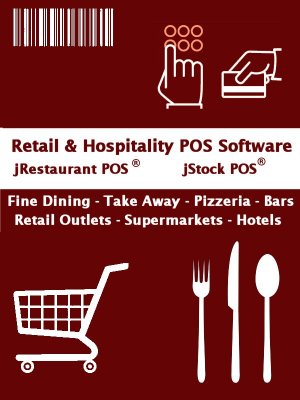 Customers today are more demanding, have more choices and purchasing channels than ever before. To be competitive in today's multi-channel retail environment retailers need their own retail managing system to deliver enhanced customer service across channels while driving growth and increased revenue.
As a company we started back in 2001 in Malta where we installed hundreds of systems in retail outlets and restaurants all over the island. Today we expanded all over the world with re-sellers reselling our software world wide. Today we have over 6000 installation world wide, and this is one of the main reason why you came to one stop shop when it comes to point of sale software.
jStock POS Enterprise
Our retail point of sale system can be used in all types of retail outlets, including supermarkets, malls, department stores, warehouses,etc. The system comes equipped with a very powerfull stock control function, optimised for large departments having thousands of different items. Inventory control is made easy, since the system has been developed with ease of use in mind.
This software is …
jRestaurant POS Enterprise
A point of sale which can be adapted for all types of catering including restaurants, bars, clubs, hotels and also for outside catering. The system is user friendly and 100% proven to work. jRestaurant POS software is being used in restaurants, fast-food, take-away, pizzerias, bars, night clubs, hotels, home-delivery, general retail, cafeterias and even in the hotel industry with its built in h…