The wireless plug-in comes in the form of a website. It runs in a web browser (for example with Microsoft Internet Explorer) Relatively speaking you can be sitting miles away from your restaurant and open a table !!!
The advantages of this approach is first of all compatibility. All you need is a wireless PDA which has a built-in internet browser. We suggest a wireless PDA with Windows XP PDA Version.
This is how it can be set-up. All you need is to install Micrsoft Internet Information Server. This is a program which can be used to host websites. It comes with Windows, but you need to install it. The procedure is relatively simple.
Step1 : Open the Windows CONTROL PANEL and select ADD/REMOVE Programs
Step2 : The following windows pops out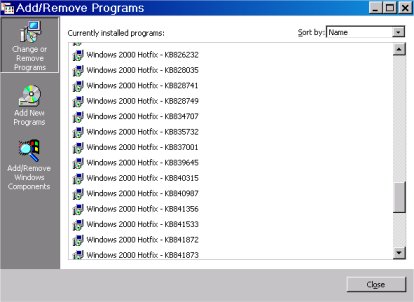 Select the option ADD/REMOVE WINDOWS COMPONENTS and another windows pops out.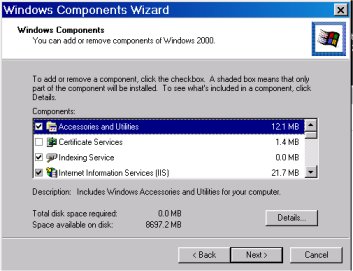 If the option Internet Information Server (IIS) is not selected it means that IIS is not installed, and you need to install it. Just thick the box and proceed with the installation by pressing the NEXT button.
Once the installation is completed you will find a new folder on your C drive called inetpub\wwwroot\ Anything you place in this folder will be accessible through a web browser.
The wireless plug-in can be purchased seperately from jRestaurant. It is made up of two small files which you can place in c:\inetpub\wwwroot folder after you have installed the Internet Information Server (IIS) Then if your computer is named mypc you can access the plugin by typing in your internet browser the url http://mypc/index.asp from another computer and there you go!! If you have a wireless router and a wireless PDA, all you do is open the web browser on your laptop and type in the address.
Note: When we install a web server such as Internet Information Server (IIS) we are exposing ourselves to unathourised access from outsiders. This applies only if you have an internet connection in your network. If your network has no internet connection , then there is nothing to worry about !!!
The following screenshot will give you an idea on how the wireless plug-in works.




As you may notice since the screen of your PDA is very small compared to your PC, the websites was designed to fit on such small dimensions.

To open the table you press on the number (eg.5) and press the button "Table No" All this from your PDA.




You select the category (eg. DRINKS)



And then you select the item (Eg. Coca) At the same time you enter the quanity.




Press the ADD ITEM button to add the item. At any time you can remove it again.

You can also add some comments (because you have a small keyboard at the buttom)

To send the order you press the SEND ORDER button.

The computer on your network which has jRestaurant installed will immediately send the details of the order to the respective department.

If you need to print the bill all you do it press the PRINT BILL button.
These are some of the feature we are providing in our Bar & Restaurant POS system. Please do not hesitate to contact us for a free demonstration of our product.

If you want to know more please download this quick tutorial.
You can also download a demo version on your computer by filling the following form.