We have been providing a bar & restaurant point of sale (POS) system for years. This is one of our strongest and most popular software, its name is called jRestaurant POS.
View jRestaurant POS Catalogue
(Please take a look at the following link http://www.jrestaurant-pos-system.com for more details or the online user manual)
jRestaurant POS now also integrates with http://www.restaurantbookitnow.com
This restaurant system is ideal for all catering environments being a pizzeria, a fast-food, fine dinning, a cafeteria or any other food-service.

The restaurant system can be installed on any computer running Microsoft Windows. You do not need any special expensive hardware to run the system. It can even run on a pentium 1 computer.
Apart from the desktop version which is installed on a normal PC, you can add a wireless interface to your POS restaurant system. You can purchase the PDA plug-in which is installed on a wireless PDA.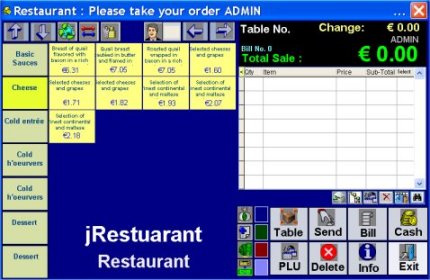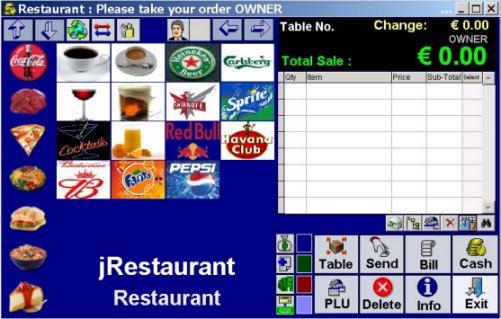 You can have your waiter taking an order from a distance of 20 meters and have the order printed in the kitchen and/or bar.
The system can be installed on any computer. You do not need any special hardware. However we can provide your with a more professional point-of-sale hardware.
A common setup in a restaurant is shown in the diagram below.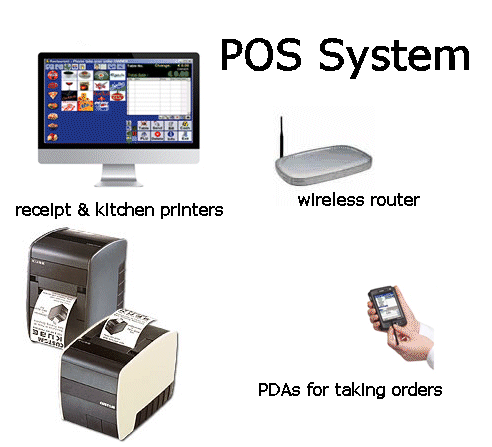 From the wireless PDA, the waiter can do the following tasks:

1. Open table (by Number)
2. Take order.
3. At anytime while the table is opened the waiter can edit , delete and add new items to that table.
3. Press SEND button to finalize the order
4. Food items will be sent to the kitchen printer
5. Drink items will be sent to the bar printer
6. At the end of the transaction, the user will close the table and cash out.



For more details on how the wireless plug-in works please follow this link.
The restaurant system allows multiple transactions to occur at the same time and prevents any human errors which are quite normal especially in high season. You can have a waiter booking a table from the desktop PC and another one from the wireless PDA.

The restaurant system is compatible with all touch sensitive devices and is very easy to use. Every function can be accessed through a touch screen, including backend reports.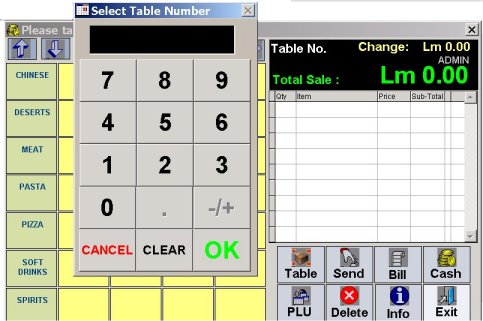 You can have individual waiter accounts, by having every waiter log in before opening a table.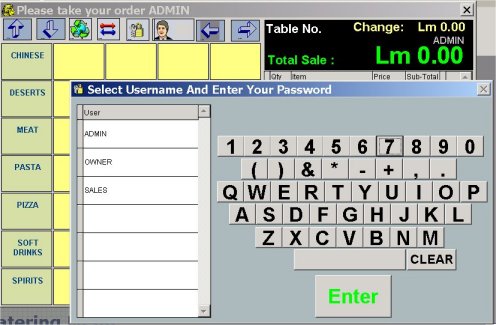 The restaurant system comes with a built-in stock control system. The pos system can automatically update your stock when carrying out a transaction. For example you can tell the restaurant system to deduct 1 bottle vodka after serving 10 shots. This can be done on any type of stock item.
We are now providing an integrated accounting system built-in within the bar &restaurant POS system. You can have your stock levels being updated as soon as you do a sale and have the company general ledger sheet updated at the same time.
Hardware requirements



You can install jRestaurant POS system on any computer running Windows operating system. You do not require any special requirements when it comes to hardware. The system runs very smooth even on low end machines.

We can provide you with professional POS hardware, which is specifically designed for bars and restaurants. There are different models to choose from.

You are not required to get the hardware from us, so please feel free to get the hardware from any other supplier and then we can just provide you with the software which is 100% compatible with any POS hardware brand.




KUBE T from
is a touch screen with a compact and elegant design, suitable for Retail applications.

For more details please follow this link : http://www.custom.it/ing/pos/03-01.htm

You need a printer to issue your chits to your customers. You need one at the bar, another one in the kitchent.

KUPE P from
is a very high speed thermal printer, up to 220mm/sec, quiet and with high performance.


For more details please follow this link : http://www.custom.it/ing/pos/18-02.htm

The wireless plug-in is optional. However if you want to purchase the wireless system plug-in you need a wireless PDA equipped with network connectivity.

Apart from the wireless PDA you require a wireless router, which is connected to your desktop PC or KUBE-T terminal.




All-In-One Systems

We are offering this all-in-one restaurant system which includes the pos, printer, cash drawer, pole display and also barcode scanner together with jRestaurant POS.

There are different models to choose from including

LC8200

QNS




Main features:

Fanless operation
Intel compatible CPU 1Ghz
Ultra compact 2"x8"x6"
Mass storage
I/O Ports include 4 USB 4 Serial 2 SVGA 1 Ethernet
Support high resolutions 1024x768



These are some of the feature we are providing in our Bar & Restaurant POS (Point Of Sale) system. Please do not hesitate to contact us for a free demonstration of our product.

Click on the below video just to get an idea of what our clients are saying about jRestaurant POS



If you want to know more please download this quick tutorial.
You can also download a demo version on your computer by filling the following form.